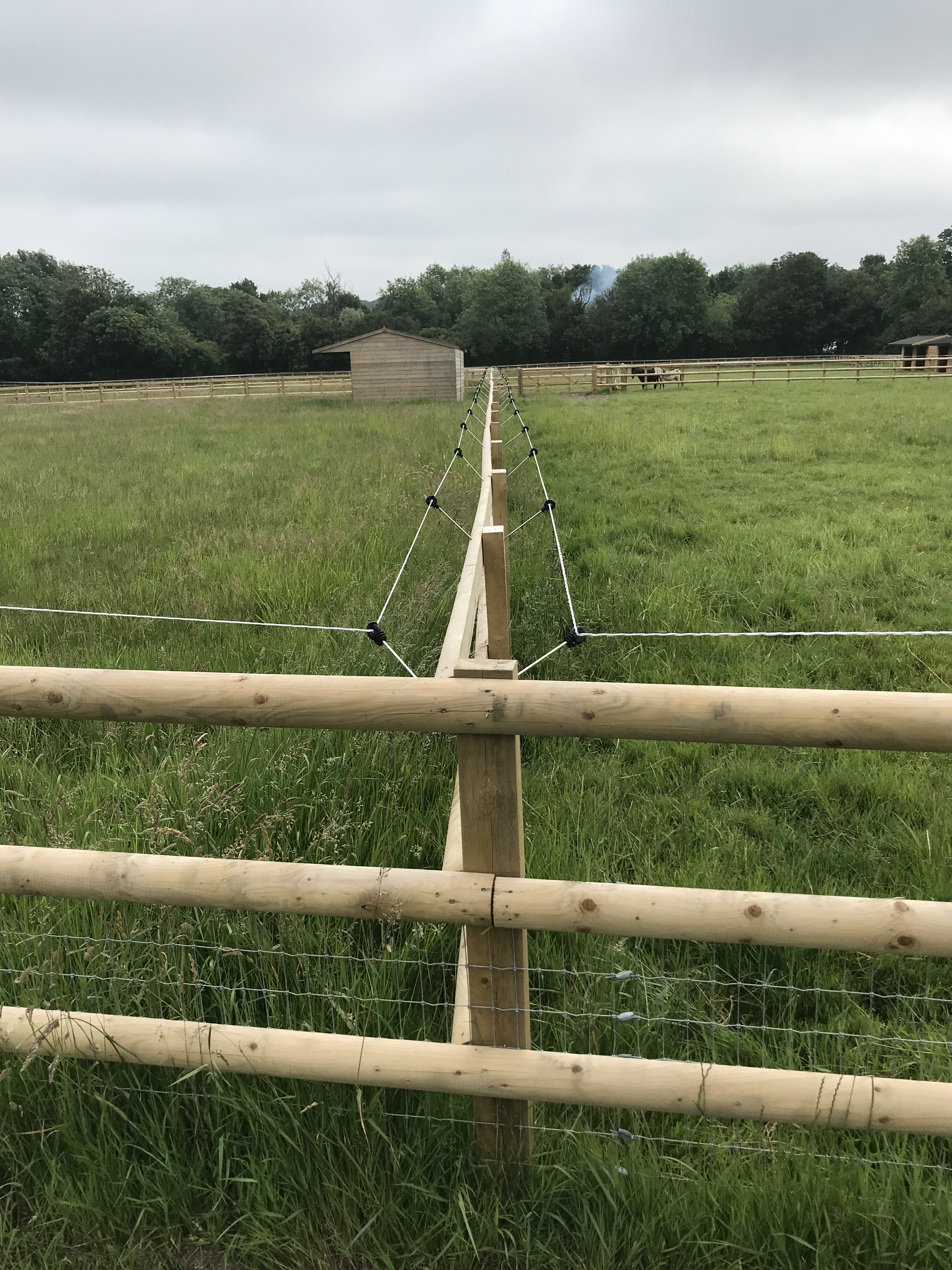 The Ultimate Equestrian Paddock Fencing.
Effective - Safe - Long Lasting
Using small holed netting with horse safe knot, taller posts to resist jumping, rails for visibility, aesthetes & strength & offset electric strand to improve stand-off & prevent chewing. This is the ultimate combination of posts, rails, wire & electric to create the safest & best-looking horse fence. Ideal for studs, foal paddocks & high-end liveries.
Discuss Your Requirements Today
Call Us Free On 01992 578496
The Ultimate Horse Fence
Call Today For Unbiased, Friendly & Professional Advice
Specialist Saftey Fencing

Safe For The Largest & Smallest Horses & Ponies

Strength:

Oversized Posts To Make 1.4m Height & Still Be Stable

Electric Fence Topper

Features Long-Life Electric Rope & Offset Insulators, Preventing Rubbing & Chewing

Customisation

Custom Gates With Heavy Duty Top Rails & Styles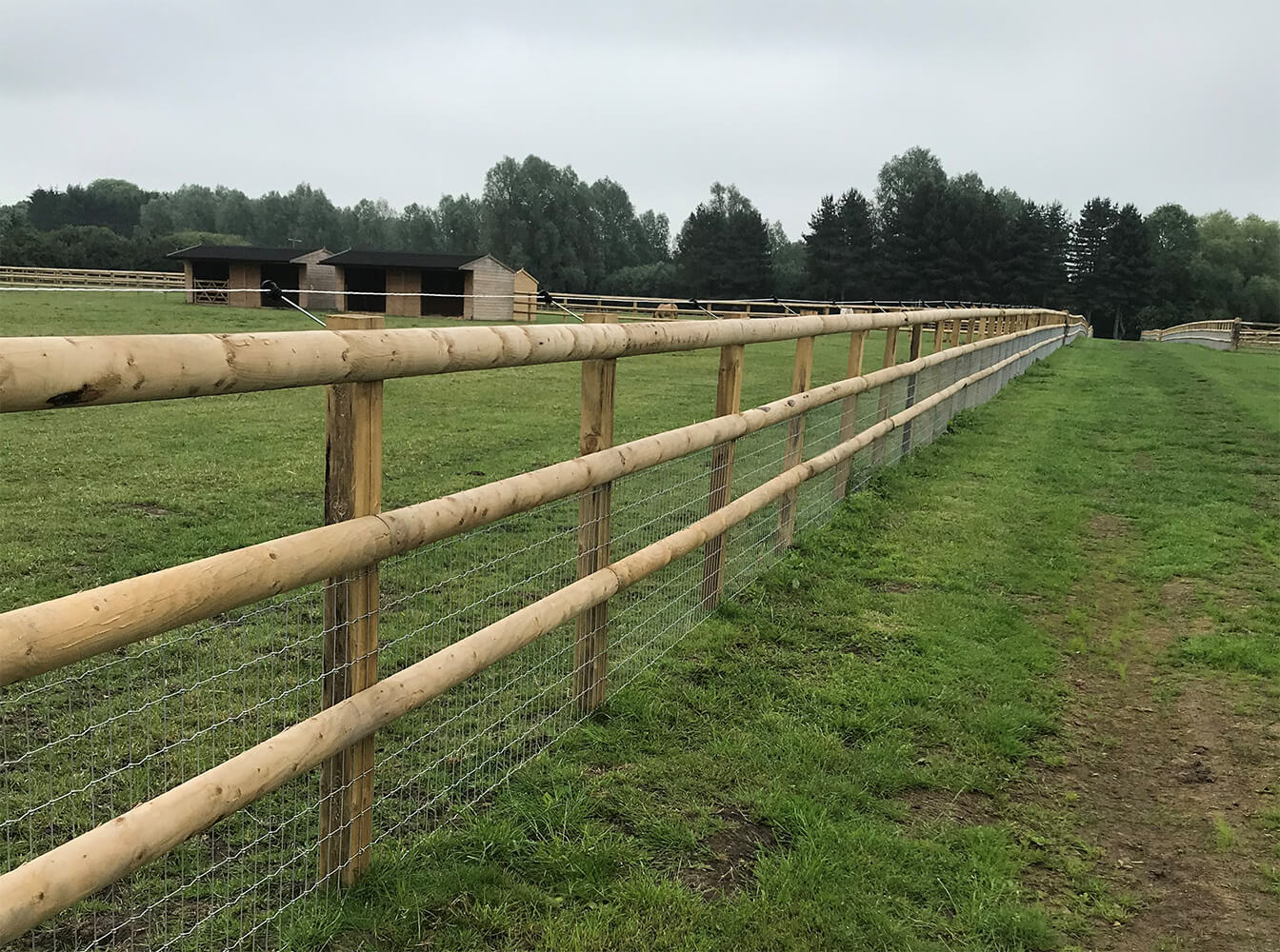 Over 1200 Fences Installed During 2023
Trusted Local Supplier & Contractor Herts/ Essex & Surrounding Area
FREE Measure & Quotation Service
FREE No Obligation Site Visits
We Have Many References From Previous Clients, Including Local Authorities, Schools, Government Agencies, Businesses & Private Clients
Unique Benefits & Potential Drawbacks
of The Ultimate Horse Fence
Benefits:
Built For Purpose: Developed in conjunction with a number of leading equestrian businesses & key suppliers.
Versatility: This type of fencing can be customised to suit various heights & designs, allowing you to tailor it to your specific requirements.
Safety Gates: Gates are clad with the same stock wire with an under-gate tensioning strand to prevent any danger of legs getting caught in gates.
Full Paddock Installation: There is an option to have the field sprayed for weeds, topped & collected. Mole drained if needed to improve drainage, hedges flailed back & uneven areas levelled & seeded.
Low Maintenance: Our Ultimate Horse fence requires minimal maintenance. Regular inspection is recommended to keep it in good condition for years to come.
Security: The Ultimate horse fence acts as a reasonable barrier against animal and human intruders.
Drawbacks:
Installation Time: The construction & preparation of this fencing can be time-consuming, particularly if you have a large area to fence & if the terrain is challenging.
Cost: Compared to other fencing options, The 'Ultimate Horse Fence' can be a little more expensive due to it's high-quality & extra materials required.
Maintenance: Regular inspection is recommended for animal safety & to maintain good fence longevity.
Local Regulations Some fencing options may be subject to local regulations & planning rules, which may impact their installation & use. Please don't hesitate to contact us to discuss this if you're concerned about using this type of fencing.
The Ultimate Horse Fence
Conclusion
This is a fence specification that we have worked to develop in conjunction with a number of leading equestrian businesses & key component materials. It's slightly higher at 1.4m, enough to deter jumping or chewing that occurs with standard 1.1m - 1.2m fences. The gates have heavy-duty top rails & styles to maintain shape & are fitted to match the 1.4m height of the fencing. Protecting your gateways with a hardstanding & avoiding muddy gateways when wet is another benefit we can offer.
With a long-life electric rope deterrent, fence chewing & rubbing are avoided, increasing the longevity of your fence. We can also fully prepare the field for the horses prior to the fence installation. If you are interested in a professional, long-lasting horse fence customised to suit your requirements, please do not hesitate & give us a call.