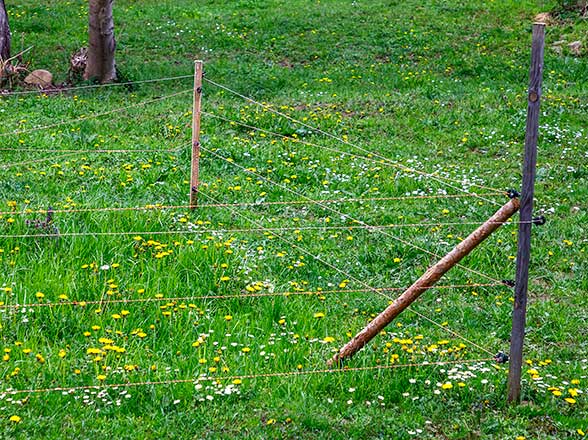 Protect Your Animals with State-of-the-Art Electric Fences.
Horses, Sheep, Cattle, Rabbits, Chickens, Goats, Pigs and more.
Electric fencing produces a pulsating electric current to provide an electric shock if touched. This type of fencing is most commonly used in livestock management to keep your animals in and predators out.
Discuss Your Requirements Today
Call Us Free On 01992 578496
Our Solution
Electric Fencing
Cost Effective

Typically Less Expensive Than Post & Rail Fencing

Low Maintenance

Needs Very Little Maintenance. Easy To Service When Required

Easy Installation

Electric Fencing Can Be Installed Quickly & Easily

Effective Deterrent

Electric Fencing Provides An Effective Deterrent Against Animal Escape & Predator Entry

Flexibility

Electric Fencing Is Suitable For Many Fixed / Mobile Configurations

Power Source Required

Electric Fence Energisers Require A 12V or 240V Power Source. 12V Solar Charging Is An Option.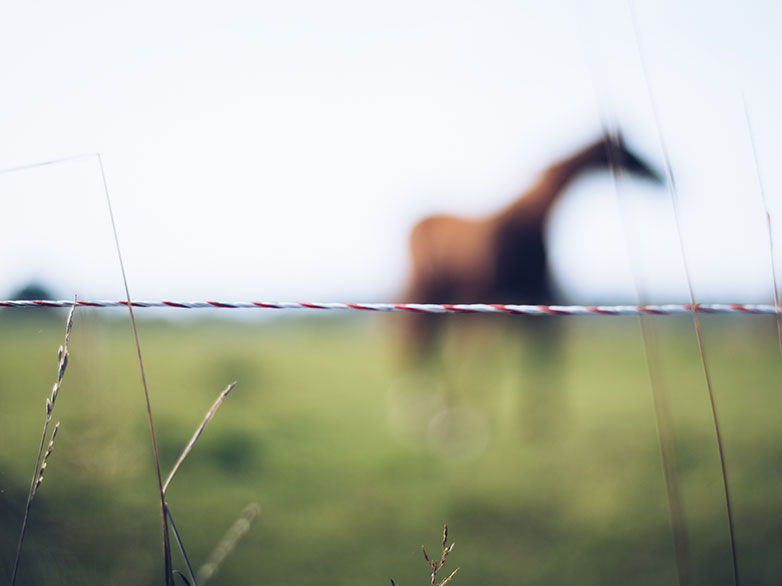 Over 1200 Fences Installed During 2023
Trusted Local Supplier & Contractor Herts/ Essex & Surrounding Area
FREE Measure & Quotation Service
FREE No Obligation Site Visits
We Have Many References From Previous Clients, Including Local Authorities, Schools, Government Agencies, Businesses & Private Clients
Unique Benefits & Potential Drawbacks
of Electric Fencing
Benefits:
Cost Effective: Our electric fencing provides a cost-effective solution compared to traditional fencing options. With reduced material & labour requirements, lower long-term maintenance costs & increased control over grazing patterns, you can optimise resource allocation, minimise wastage & maximise the productivity of your livestock or equestrian operation.
Enhanced Safety: Our electric fencing incorporates advanced safety features to prioritise animal welfare & minimise the risk of injury. Low impedance technology helps prevent power drainage, ensuring consistent, effective shock delivery. At the same time, features such as insulated posts & warning signs promote clear visibility & awareness for both animals & caretakers.
Security: Our electric fencing creates a formidable barrier to keep your valuable livestock and cherished horses safe within designated areas. The electrified wires deliver a harmless but powerful deterrent to potential intruders, preventing unauthorised access and minimising the risk of animal escape.
Easy Maintenance & Installation: Installing our electric fencing is hassle-free, thanks to its user-friendly design & comprehensive installation guides. Once in place, our low-maintenance systems require minimal upkeep, reducing your time & labour investment. Regular inspections & occasional testing ensure the system remains in peak condition, providing lasting performance & reliability.
Customisable: Tailored to meet your livestock's or equestrian operation's specific needs, our electric fencing systems offer exceptional versatility. With adjustable fence height, spacing and power settings, you have complete control over the layout & functionality of your fencing, allowing you to create secure enclosures or rotational grazing areas that optimise animal welfare & pasture management.
Drawbacks:
Potential For Harm: If not installed & maintained correctly, electric fencing can cause serious harm to humans & animals.
Power Source Required: Electric fencing requires a power source, such as a battery or AC power, which can add to the cost. Additionally, if a problem does occur with the power source, the effectiveness of the fence will be compromised.
Limited Visibility: Electric fencing is less visible from a distance than some other fencing options.
Not Always Effective: Some animals may become accustomed to the electric shock and learn to ignore the fencing.
Local regulations Electric fencing may be subject to local regulations and planning laws, which can impact its installation.
Electric Fencing
Conclusion
Electric fencing is an excellent choice for most livestock owners seeking a reliable & cost-effective way to secure their paddocks. Portable electric fencing is useful for temporary installations, such as creating a temporary enclosure for livestock. Temporary posts can be moved from area to area, making maximum use of the equipment.
With its many customisable options, easy installation and low maintenance requirements, electric fencing provides a truly effective, manageable solution for many applications.
If you are considering electric fencing, please call us and we will happily discuss all the options, safety guidelines and regulations with you. With proper installation & maintenance, electric fencing can provide you with a long-lasting and effective solution.