Palisade vs Mesh Fencing
Palisade fencing has always been a popular choice for those looking to secure their property, as it offers a long lasting solution ideal for businesses that want a physical and visible deterrent against intruders.
However, in recent years more and more businesses have raised issues with this type of fencing and are looking at a more secure and cost effective alternative.
To show how you can improve your security; and benefit from a better fencing system see the direct comparison between Palisade vs Mesh Fencing below.
So when you think about your next fencing system take a second to consider this, "just because we always have that style of fencing, does it offer the protection we need?"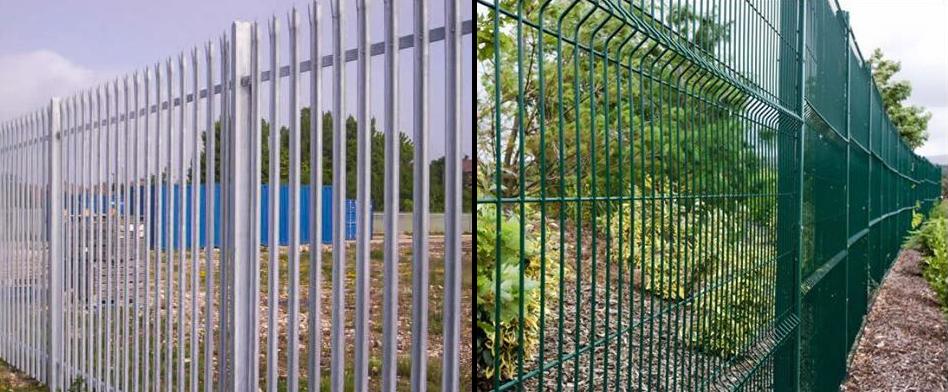 Due to the thickness of the uprights, at a distance, visibility through the fence is poor offering reduced surveillance from neighbouring buildings and from security cameras.

Due to the construction of the mesh system it has high visibility through the fence offering enhanced surveillance from neighbouring buildings and from security cameras.

The uprights can be damaged or unscrewed to create an access point that can then be hidden by swinging it back into place with no fittings. In a recent test it took just 11.52 seconds for a Palisade Fence to be breeched with only 8 strikes from a hammer.

If the mesh is breached from a dedicated attack it will be noticed instantly on inspection and highlight that the property has come under an attack. In a recent test 165mm x 25mm using 6mm wire diameter Mesh Fencing couldn't be breached and was awarded LPS1175 Cat 1.

Palisade can be climbed relatively easily by hooking a loop over the top of the upright and using the loop as a step up over the fence.

By having a flat top and smaller holes it is harder to climb a Mesh Fence, whilst not impossible, the construction reduces the ability to scale the fence.

The uprights can be prised apart with a car jack or a timber stave.

The Mesh is repeated across the attack face meaning it requires dedicated attack to open a breach.

Modern style and appearance.

Presents a poor image of the business and the area in general.

Presents a good image of the business and can be worked in with the surrounding landscape to enhance the area in general.

Ongoing high maintenance costs.

Ability to maintain and repair for a low cost.

Easily damaged, breached and generally needs more repairs than alternative products.

Difficult to damage, breach and needs minimal maintenance and repair work to be carried out over the life of the fence.

Installation time is

intensive

Installation time is 40% quicker than Palisade